Expired
Hallenstein Brothers – Mystery Discount Code
Hallenstein Brothers has launched their famous mystery code sale where you can get up to 100% off your order!
Offer available online & in store.
You must apply your unique code in the 'Discount Code' field on the checkout page to receive the discount allocated on valid items in your order or present your discount code at the checkout in store.
We've split our email database so you will receive a discount code that is 20%, 25%, 30%, 35%, 40%, 45%, 50% or 100% off.
Codes are valid for single use only, and only one code can be used at a time.
Discount code cannot be added after your order is placed or to an order that is completed.
Reveal Your Hidden Discounts:. From 30% – 100% off codes!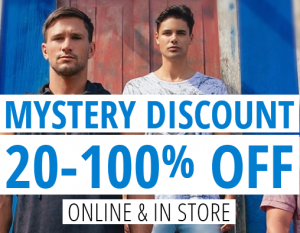 Update - 2017.03.21
This deal is back again!