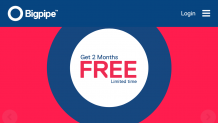 Expired
Bigpipe – First Month Free ($69 – $129) + No Connection Fee ($49) + Free Modem (12 Month Plan Only) Via GrabOne
Saw this while looking for my Aunty, noticed all the deals here had expired a while ago. This one lasts until the end of September.
Same as in the past, free connection and first month on an open term plan, plus a free modem on the 12 month plan.
We changed when they had the 2 month free when switching from another provider, got the gigabit line, decided we got no real benefit from it, so downgraded to the 100/20 $79 plan, half the price of what we were paying for the same plan from the previous provider.
Also, don't forget to use a referral code (Goto Grabone, get the voucher code, then come back here and click random in the grey box below) to get an extra $20 off for yourself and the referrer.